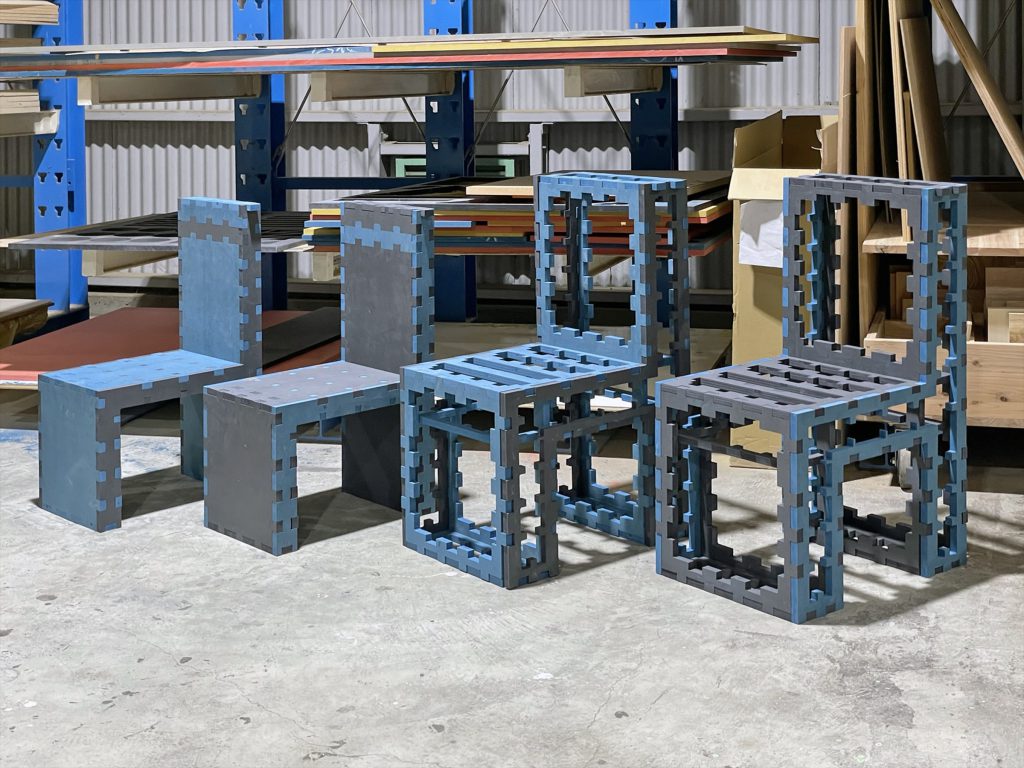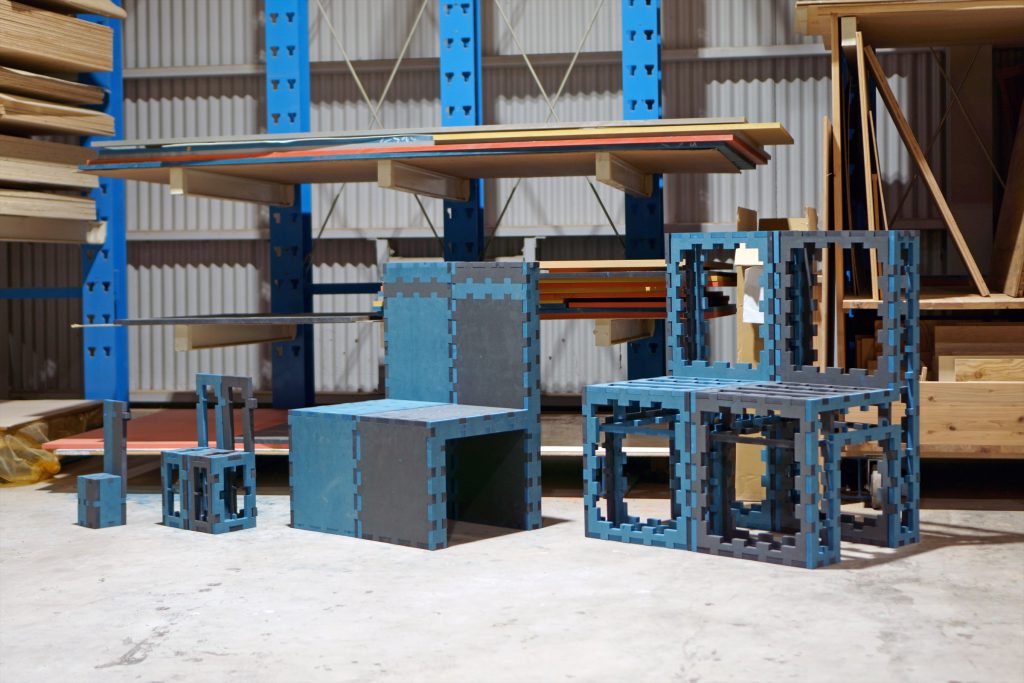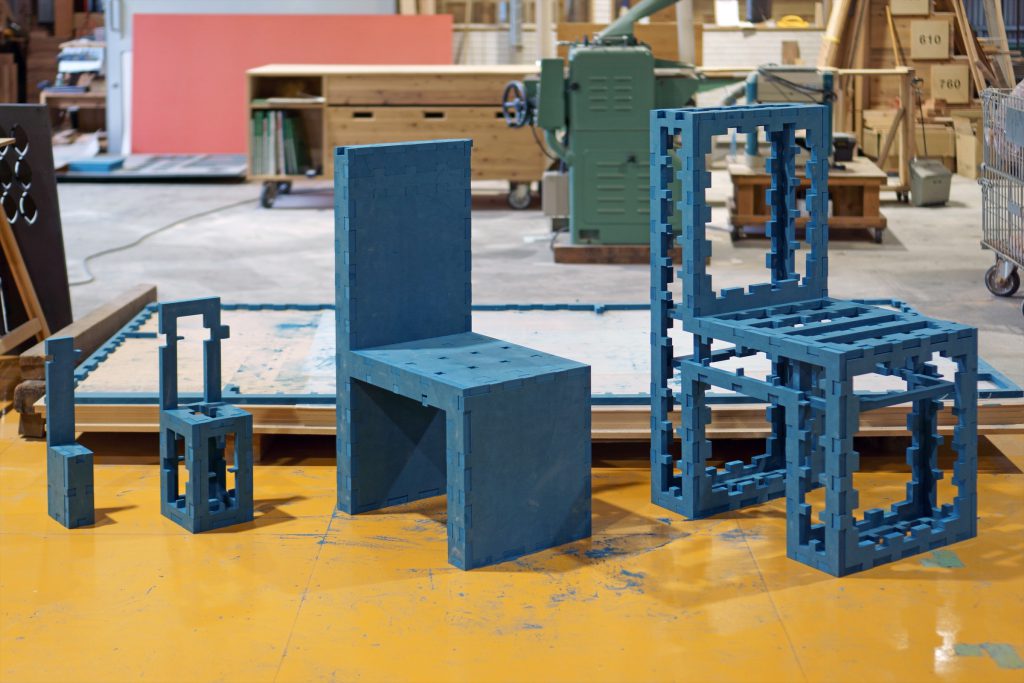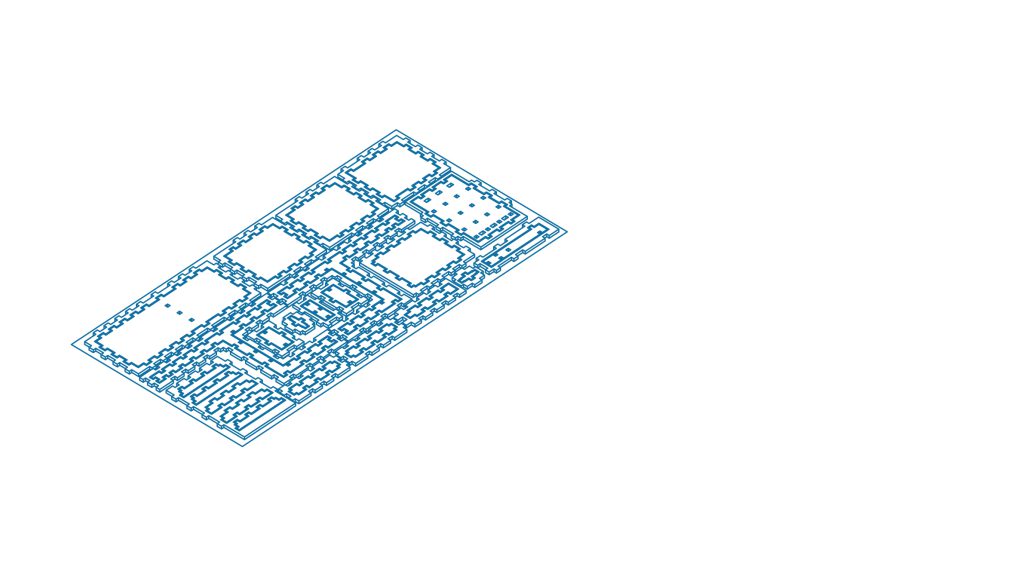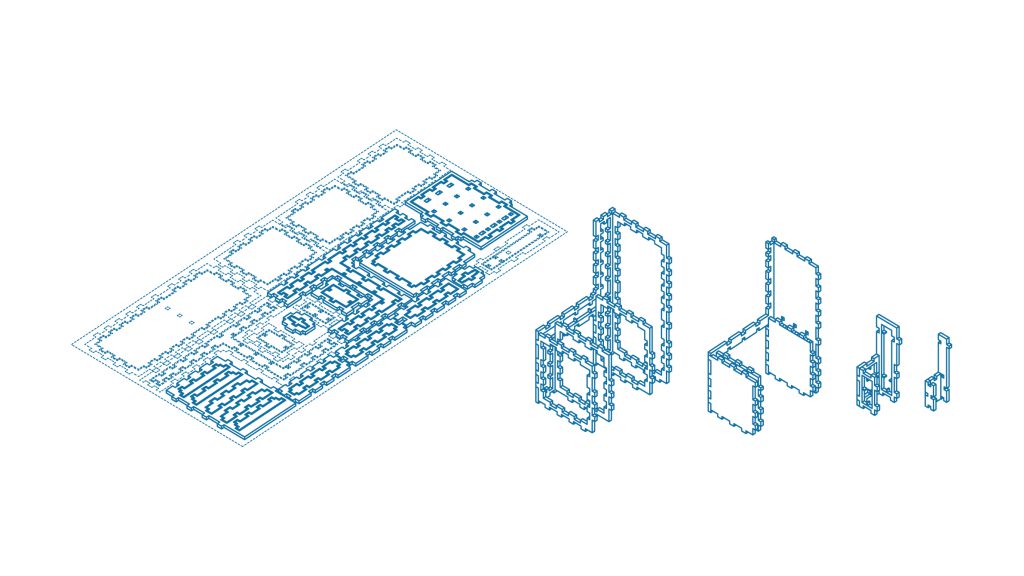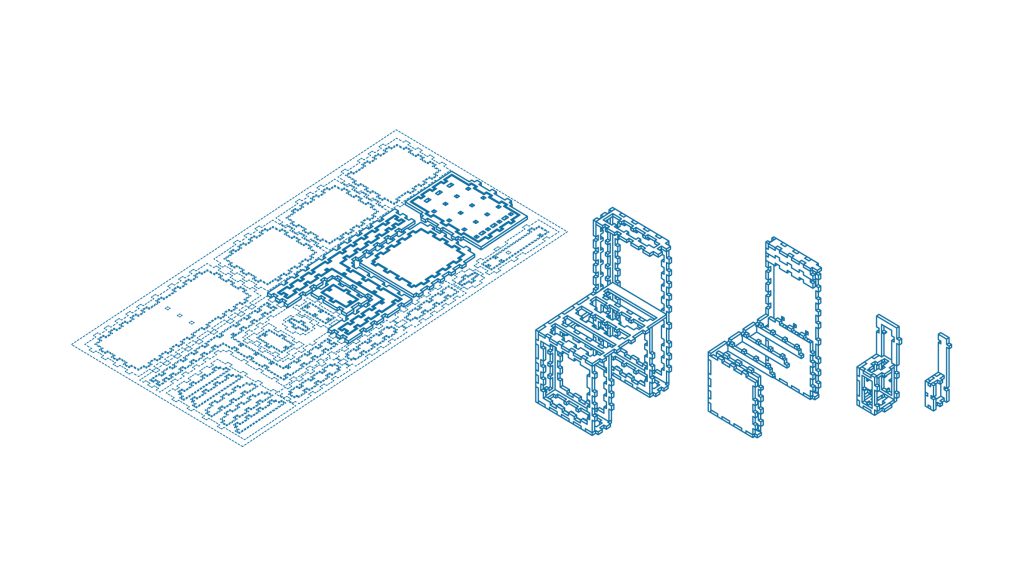 Type:Chair/Design:2022/Construction:2022/ Supprt:VUILD-EMARF, Azuma Plywood, Enokido Lumber/ Size: Flame chair:420×576×954㎜, Surface chair:335.3×491.3×869.3㎜, Rabbit chair:144×165×504㎜,Cat chair:59.3×116.3×419.3㎜
TWINS-MDFは双子のようなフレームチェアとサーフェスチェアの木取りを工夫することで、極めて端材が少ない歩留まり率70%以上という高い数値を実現しました。規格サイズの4x8板(1219x2438mm)のカラーMDFにおいて、例えばフレームチェアの背板パーツ内側からサーフェスチェアの背板パーツをEMARFのShopBot(CNCルーター)を用いて抜き取っています。そのため製作可能範囲やドリル幅、互いの組み継ぎ手の位置干渉等の検討を重ねました。それはまるで最大公約数を探し求めながら、パズルをつくりあげるような作業です。更に各チェア上部に設けられた凸凹により、ベンチのような横方向への連結も可能です。また異なる色のカラーMDFを用いることで、各パーツを模様のように浮き上がらせることができます。主に枠で構成されたフレームチェアと、主に面で構成されたサーフェスチェアは、同じ空間に佇むことにより、【抜け殻】と【塊】のような関係性をつくり出しています。
TWINS-MDF consists of a "Frame chair" and a "Surface chair", which have a twins-like relationship. By studying these chair's MDF/Medium Density Fiberboard trimmings, we have achieved a high yield rate more than 70% with extremely little offcuts in the Japanese standard size 4×8 board (1219x2438mm). For example, the backboard part of the "Surface chair" is extracted from the inside of the backboard part of the "Frame chair" using EMARF's Shop Bot (CNC router).
Therefore, we repeatedly studied the manufacturable range, drill width, and the position interference of each other's joints. It's like creating a puzzle while searching for the greatest common divisors of each.
Furthermore, due to the unevenness provided on the top of the back plate of each chair, it is possible to connect laterally like a bench. It is also possible to make each part stand out like a pattern by using different color's MDF. The "Frame chair", which is mainly composed of frames, and the "Surface chair", which is mainly composed of surfaces, are in the same space, creating a relationship like a mass and a void.
* The yield rate is the ratio of the amount of sawn timber actually obtained to the raw wood. The higher the number, the less waste.
**TWINS original chair was designed 18 years ago as a stacking chair by stainless steel.