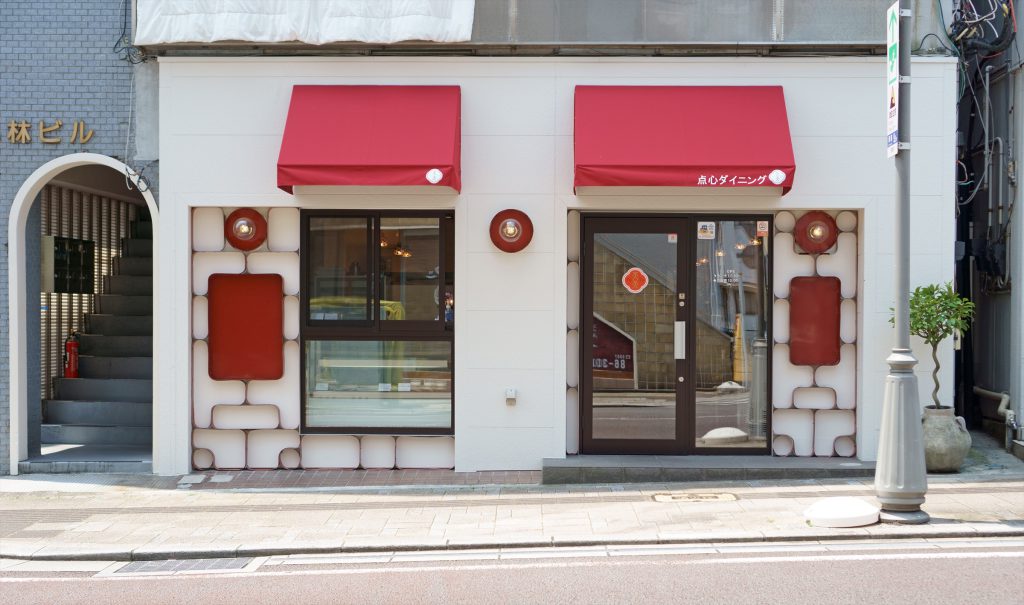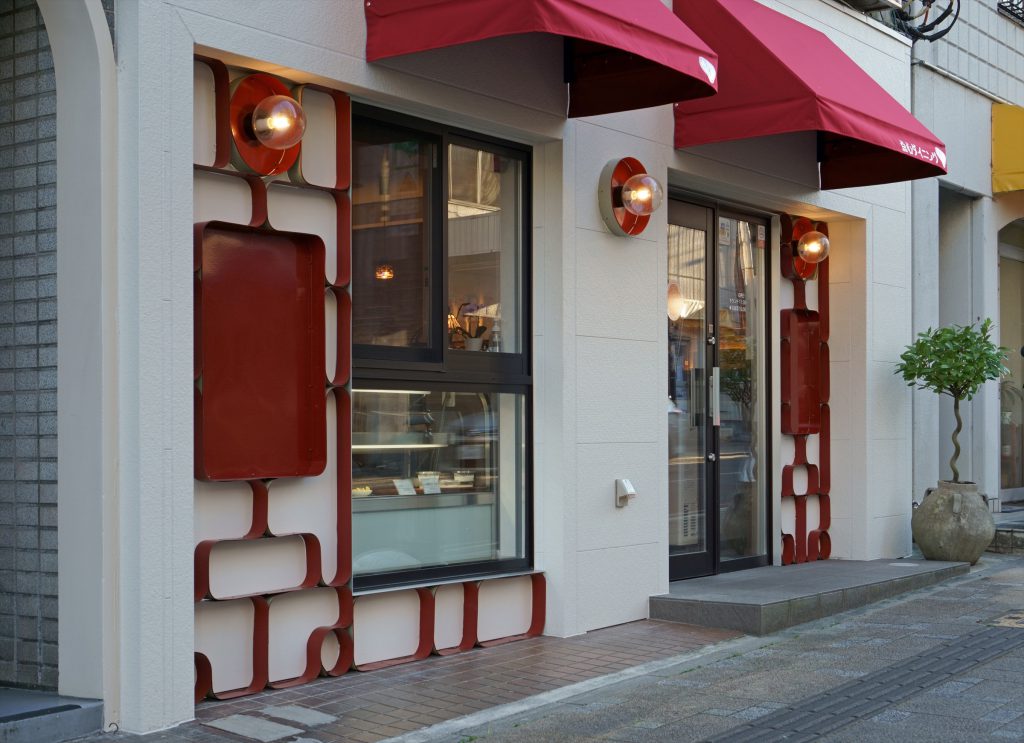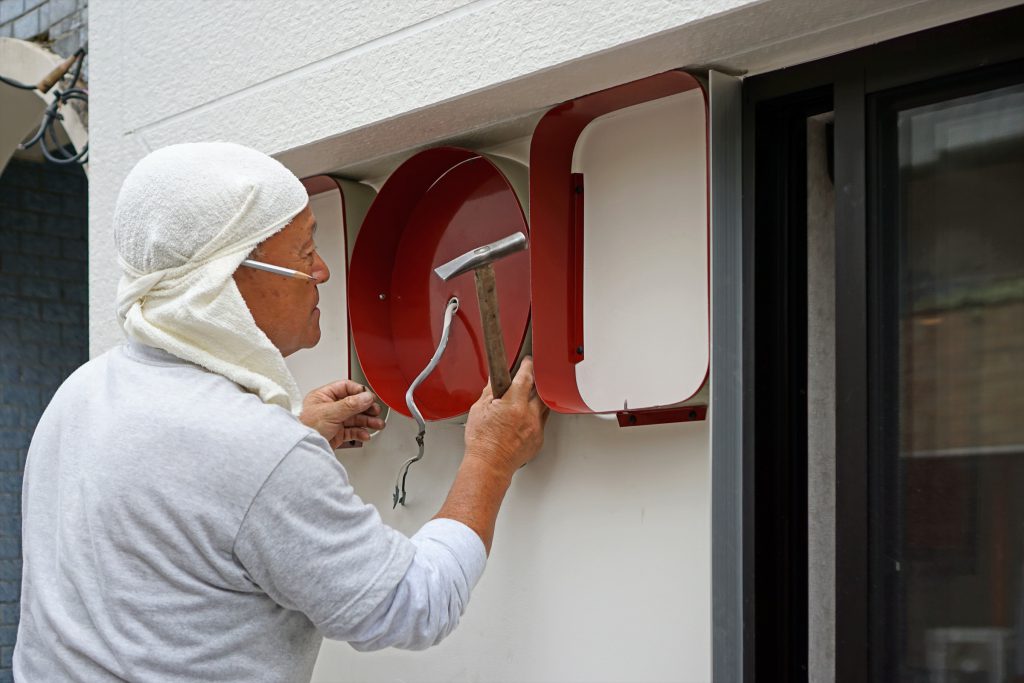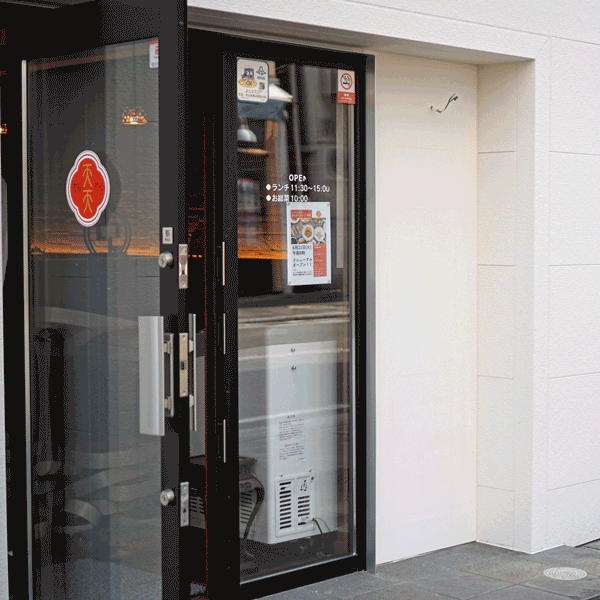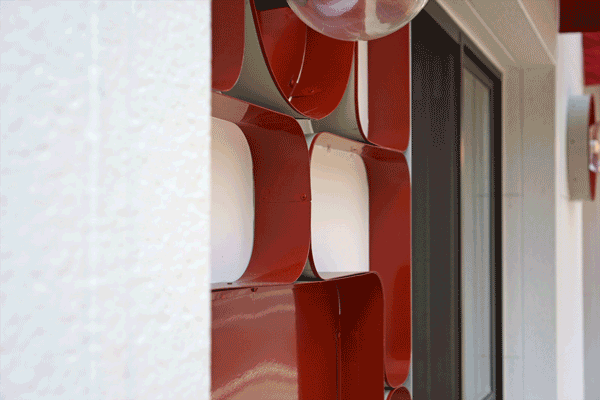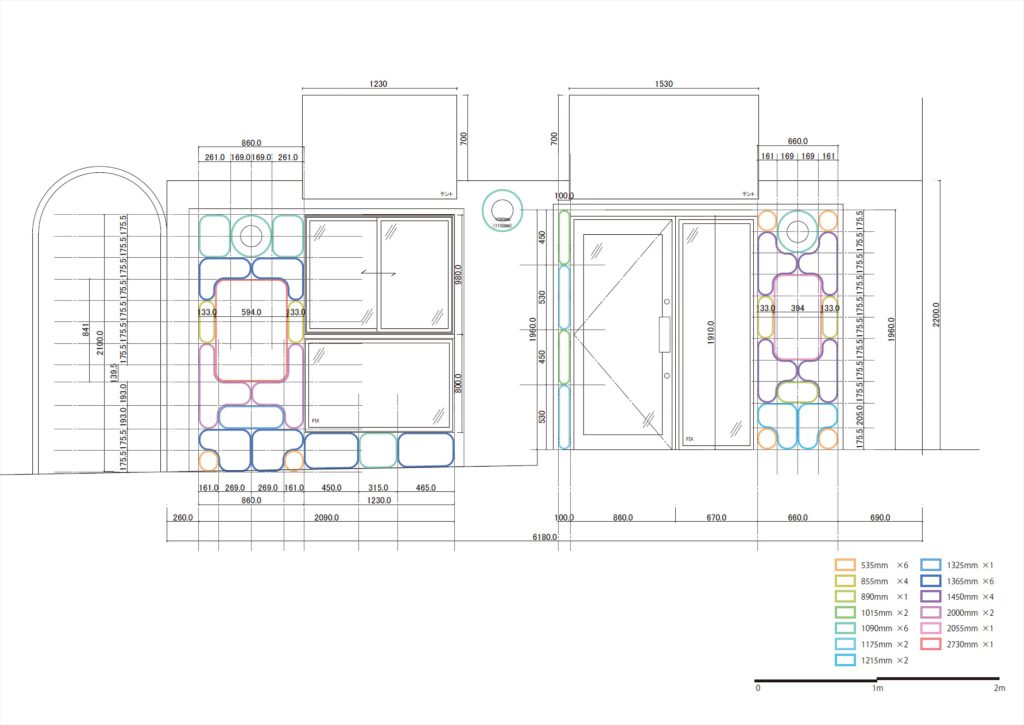 Type: House / Location: Atami, Shizuoka, Japan / Design: 2022 / Construction: 2022 / Contractor: Yamada-komuten
熱海の観光名所である起雲閣にほど近い、坂道に面した中華料理店のファサード改修プロジェクト。長方形やL字型や凸型によるシンメトリーなパターン構成が特徴の中華模様を厚さ0.3mmのカラー鋼板を用いて新たなファサードとしてデザインした。カラー鋼板は屋根材として使用されることが多く、今回の中華模様は熟練の板金屋さんの手により加工された。通常、枠等を形成する際に用いられるスチールのフラットバーを曲げ加工し塗装するよりも、カラー鋼板を用いることで施工の迅速化、ローコスト化、工場塗装による高耐候性化(塩害、高湿度)となる。そして何よりも板厚の薄さによる軽やかさが採用の決め手となった。また、当該店舗の坂の下の起雲閣側からと、坂の上の市役所側からの視認性にも配慮した。厚みは0.3mmだが奥行きを80mmとすることで、対象者とファサードとの角度が鋭角になるほど(遠方になるほど)、カラー鋼板の奥行き部分が可視化され、ファサード全体の赤味が増すデザインとなっている。中華模様は端部を3mm折り曲げた(怪我防止)80mmの短冊状のものを曲げて輪っかにし、重なった部分をリベット留めとしている。輪っかは既存ファサードの凹凸に合わせる形で全38個あるが、シンメトリーであることと、グリッドを構成することで、なるべく少ない種類の長さ(13種類)で構成されている。厚さが薄いため単体では歪みやすい輪っかも、枠内に複数収めることで安定性が増す。薄さから生まれる歪や揺らめきが、熱海の街を映し出している。
■建築概要
建物名称:点心ダイニング天天
用途:飲食店
所在地:静岡県熱海市昭和町1-3 小林ビル1F
設計監理:田邉雄之建築設計事務所 担当/田邉雄之、小室周起
施工:山田工務店
壁面面積:19.81㎡
竣工:2022年7月
撮影:田邉雄之
This is a project renovating façade of Chinese restaurant facing a sloping road near the Kiunkaku, which is famous for the tourist in Atami city. We designed the façade based on the Chinese lattice pattern which is characterized by a symmetric pattern composition of rectangles, L-shapes, and convex shapes using a color steel plate with a thickness of 0.3 mm.
The color steel plate is basically used for roof covering, so that these each of rings consist the façade are processed/bent by a well-skilled sheet metal worker. In making this façade, rather than bending and painting steel flat bars that are normally used to form frames for openings, using colored steel plates speeds up construction, reduces costs, and improves weather resistance (against the salt damage, high humidity) by factory painting. And above all, the lightness due to the thinness of the plate thickness was the decisive factor in choosing material. On the other hands, we considered about visibility from the Kiunkaku side down the slope of this restaurant and from the city hall side up the hill. The thickness is 0.3㎜, but the depth is 80 ㎜, so the angle between the pedestrian and the façade becomes sharper (farther away), the depth of the color steel plate is visualized, and the redness of the entire façade increases.
The Chinese lattice pattern is made by bending an 80㎜ rectangle shaped color steel plate with the ends bent 3 mm (to prevent injury) to make a ring, and riveting the overlapping parts. There are 38 rings in total to match the irregularities of the existing façade, but they are composed of as few types of lengths (13 types) as possible while maintaining the symmetry and the configuration of the grid. Since the thickness of the rings is thin, it is easy to distort by themselves, but by fitting multiple rings in the frame, each supports each other and increases stability. The distortion and flicker born from the thinness reflect Atami city.
■Data
Project name: Dim Sum Dining Tenten
Function: Restaurant
Location: 1-3 Kobayasi Bld.1F, Showacho, Atami, Shizuoka, Japan
Design: Yuji Tanabe Architects. Ltd. /Yuji Tanabe, Shuki Komuro
Constructor: Yamada Komuten
Façade area: 19.81sqm
Construction: July,2022
Photo: Yuji Tanabe