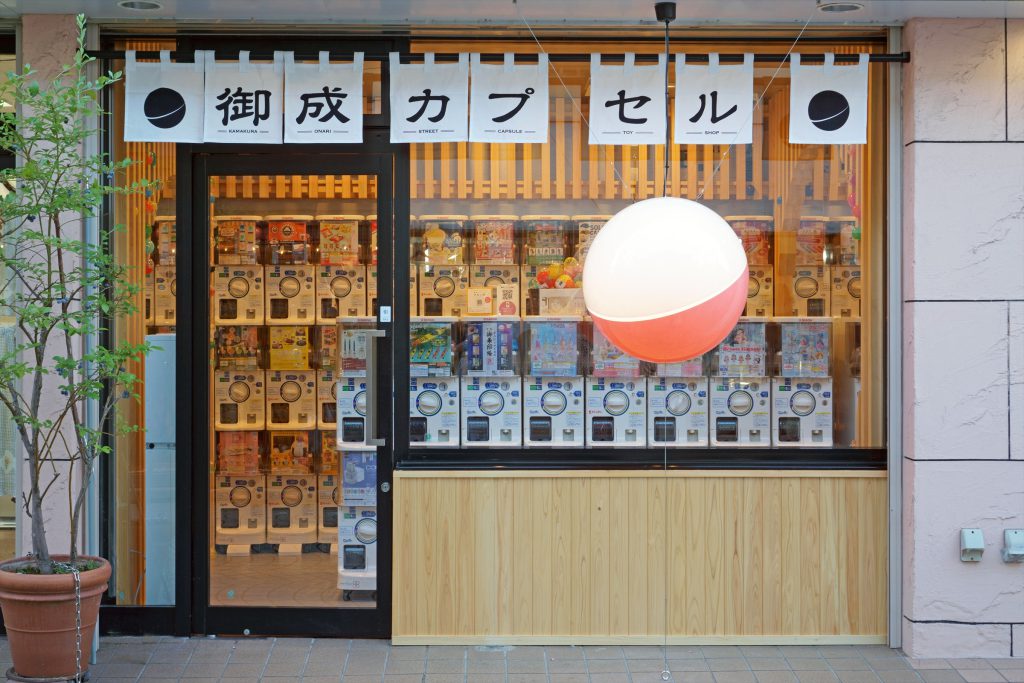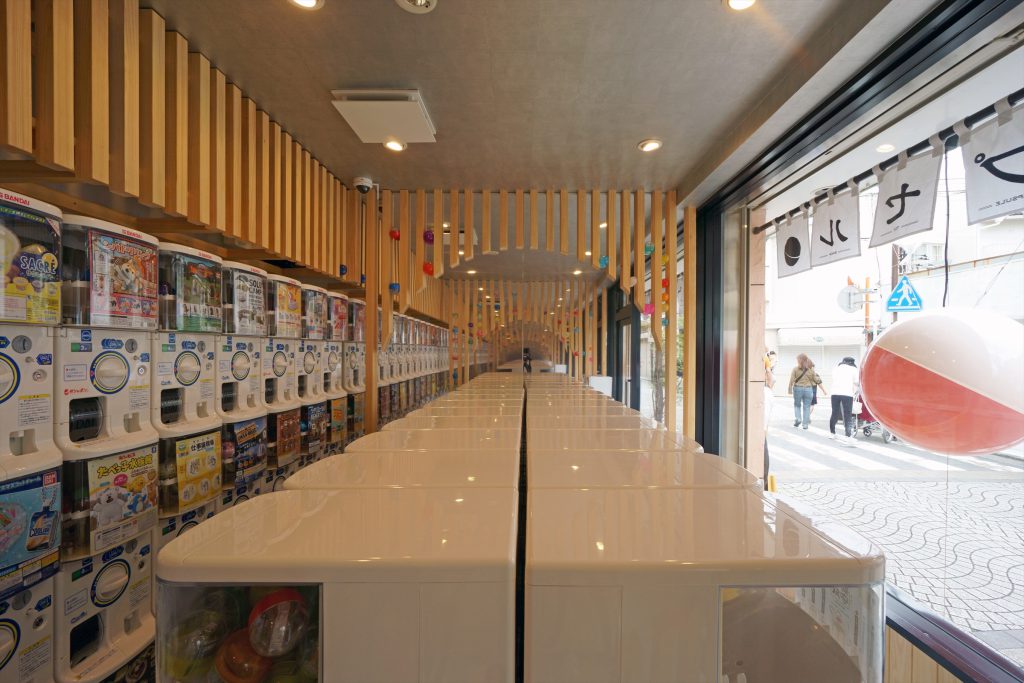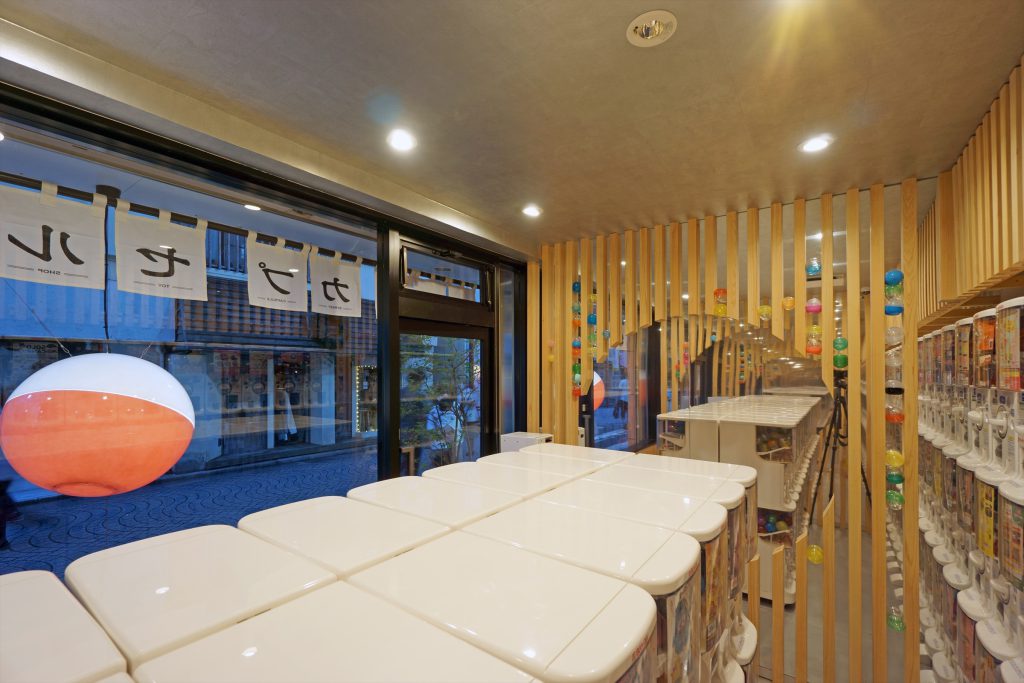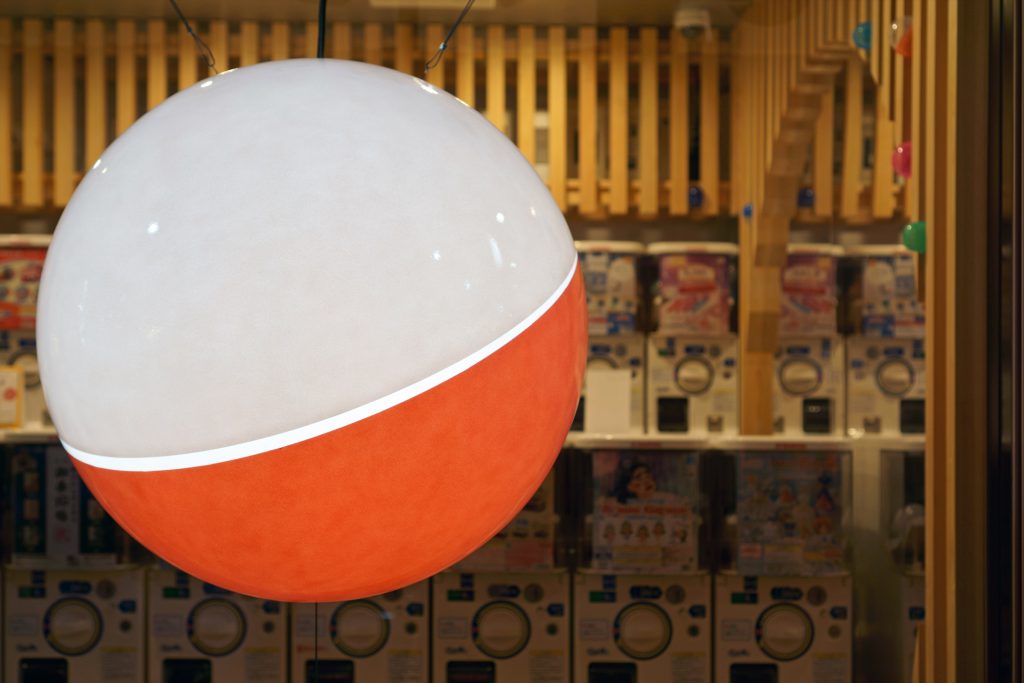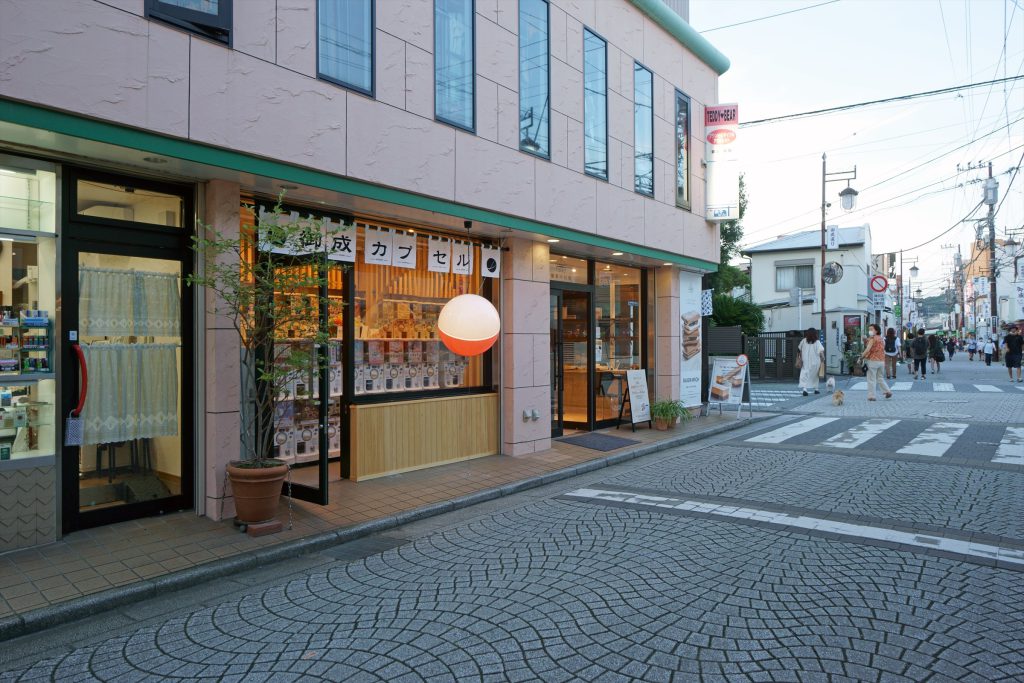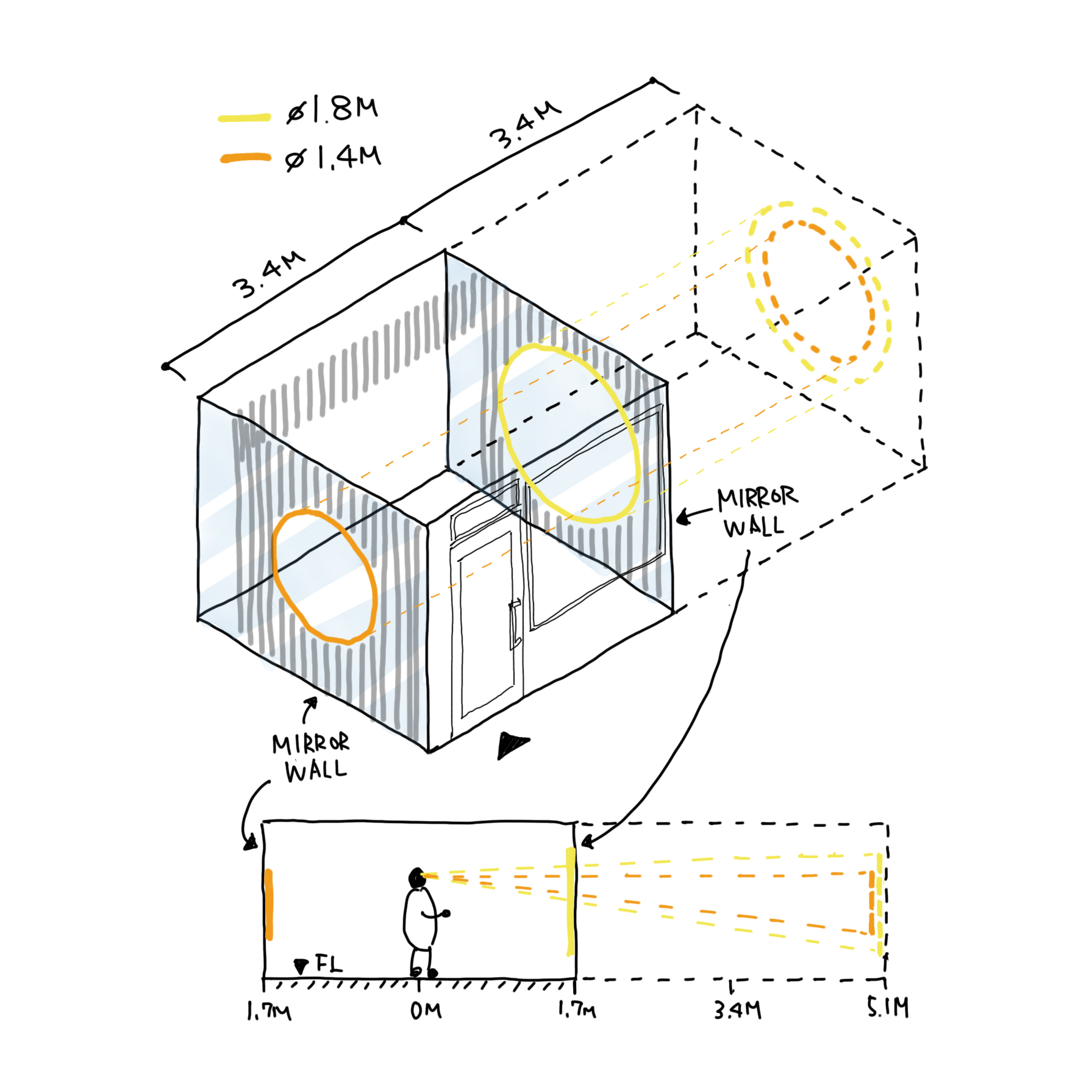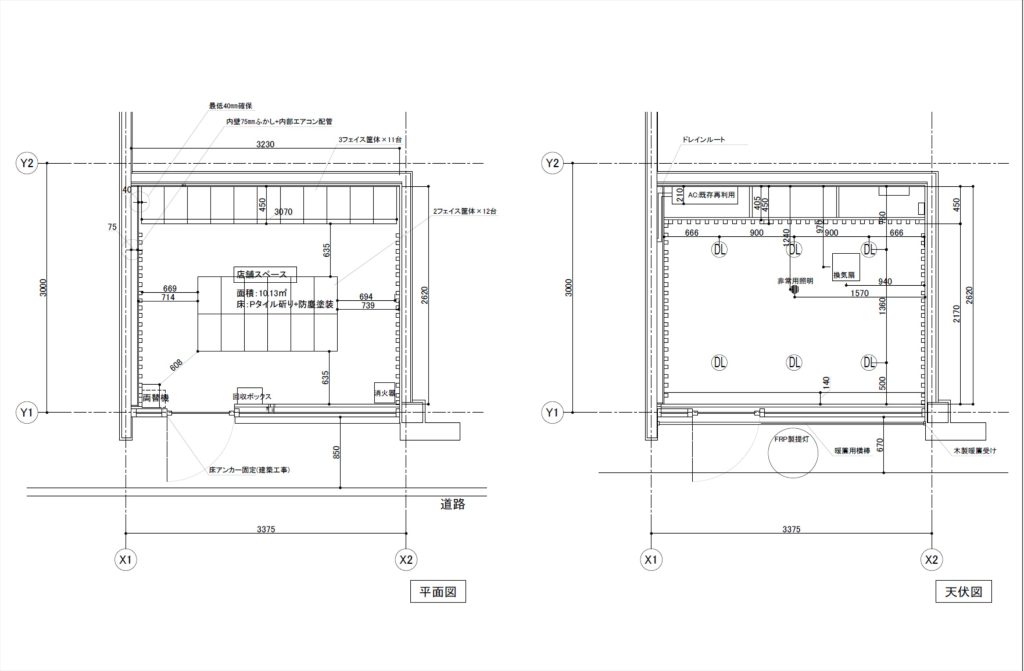 Type: Capsule toy shop / Location: Kamakura, Kanagawa, Japan / Design: 2022 / Construction: 2022 / Produce+sign design: Kayac / Contractor: System shop Hagiwara / Total floor area: 9.52m2
【御成カプセル】は、鎌倉駅西口から海の方角(南側)へ繋がる御成通り商店街に面するカプセルトイショップ。元々は眼鏡専門店で広さは間口3.4mx奥行2.8mの約6畳のコンパクトなスペース。通りに面しては框ドアと腰壁を残したガラス窓が設けられており、通行人からの内部への視認性は大変良い。西口の御成通り商店街は、鶴岡八幡宮へと繋がる東口の小町通り商店街に比べると地元の利用客が多いが、近年は海や長谷の大仏への観光ルートとしても利用されている。駅からの道すがら、又はその逆において視認性を高めることと、内部空間をなるべく広く見せることを目的に、間口に対して両サイドの壁の仕上げを鏡貼りとした。3.4mで向かい合うこの鏡貼りによって、65台のカプセルトイマシンは無限に増殖していく。またこの鏡貼りの表面に設けた45mm角の桧格子は、4種類(45mm,55mm,65mm,75mm)の間隔で配置した。このサイズは流通しているカプセルの主要なサイズであり、中身を取り出して不要になった空きカプセルを楽しみながら挟むことで回収するシステムとしている。そして桧格子は両サイドで大きさが異なる円窓(円形)によって切り欠いた。エントランス側の円窓を小さくすることで、反対側に写った円窓が比較対象となる表面の円窓よりも小さく、遠近法が強調され実際よりもより遠く、広く感じさせる(物体の大きさは距離に反比例する)。古都鎌倉において、カプセルトイショップのあり方を提灯や暖簾、桧格子や円窓、薄っすらと反射する天井の銀箔紙等を用いることで、和の品格を保ちながらも商店街という立地において、際立つ存在をつくりだすことを目指した。
■建築概要
建物名称:御成カプセル
用途:店舗(カプセルトイショップ)
所在地:神奈川県鎌倉市御成町8-2
プロデュース・運営:面白法人カヤック
設計監理:田邉雄之建築設計事務所 
サイン計画:面白法人カヤック
施工:システムショップ萩原
床面積:9.52㎡(1F)
竣工:2022年8月
[Onari Capsule] is a capsule toy shop facing the Onari shopping street that leads from the west exit of Kamakura Station toward the sea (south side). Kamakura was a capital city in 800 years ago and it has a long history. Originally this shop was a glasses shop, and it is a compact space of about 6 tatami mats with a width of 3.4m and a depth of 2.8m. Facing the street, there was a frame door and a glass window that leaves the low wall (wainscot), and the visibility to the inside from passers-by is very good.
The Onari shopping street leading to the west exit of the station is more frequented by locals than the Komachi shopping street at the east exit, which leads to Tsurugaoka Hachimangu Shrine, a landmark of the city, but in recent years Onari has also been used as a sightseeing route to the sea and the Great Buddha of Hase.
In order to improve visibility from the pedestrian walking from the station and vice versa and to make the interior space look as wide as possible, the walls on both sides of the frontage are finished with mirrors. 65 capsule toy machines look multiplying infinitely by this mirror facing each other at 3.4m.
In addition, the 45mm square Japanese cypress lattices on the mirrored surface are arranged at intervals of 4 types (45mm, 55mm, 65mm, 75mm). This size is the major size of capsules in circulation, and it is a system that collects empty capsules that are no longer needed by taking out the contents and inserting between two lattices, while having fun. The cypress lattice was cut out with En-Mado (circles) of different sizes on both sides. By making the En-Mado on the entrance side smaller than the one on the opposite side, the reflection on the mirror makes it appear smaller. In other words, the perspective is emphasized, so it feels farther than the actual distance (Object size is inversely proportional to distance).
Basically, capsule toy shops have a large presence of capsule machines, so they tend to be commercial finishes.
But we aimed to create a presence that stands out in the shopping district while maintaining Japanese dignity in Kamakura, the ancient capital, by using lanterns, oren curtains, cypress lattices, En-Mado, and silver-leaf paper on the ceiling that faintly reflects.
■Data
Name: Onari Capsule
Function: Store (Capsule toy shop)
Location: 8-2 Onarimachi, Kamakura, Kanagawa, Japan
Produce+ Sign design: Kayac
Design: Yuji Tanabe Architects
Constructor: System shop Hagiwara
Area: 9.52㎡(1F)
Completion date: August,2022
Photo: Yuji Tanabe